James Hardie Siding must be painted correctly in Atlanta's weather conditions.
Our painting specialty is James Hardie Siding products . Each of our craftsmen is trained  by our painting foreman to achieve the highest level of quality, following rules established  by James Hardie to ensure longevity and to meet their warranty promises.
First Rate Siding and Roofing Experts is the leading James Hardie siding design team in the Atlanta/Alpharetta area! We ensure attention to detail and use of techniques specific to James Hardie products. In addition, each of our painters is held to our high standards of quality and conduct.We design, install, and paint your James Hardie siding to your specifications or your designer's specs, OR – free of charge– provide insightful and professional siding design and color coordination recommendations. This will enhance the beauty of your home for years to come. It will also promote your home's curb appeal and increases its sales value.
First Rate Siding and Roofing Experts takes great pride in each and every job we do, and we achieve the ultimate in customer care on every job, with no exceptions.
Painting James Hardie Fiber Cement Siding
Specific techniques are needed to achieve a high-quality painted finish for James Hardie siding, including unique methods for puttying and caulking, as described below.  Our team has been trained with special attention to  James Hardie methods – allowing us to achieve the best-performing and best-looking finishes for your siding.
There are some differences that we take into account for painting a new Hardieplank installation vs. repainting an existing Hardieplank job. Probably the single most important aspect of exterior painting is the quality and thoroughness of preparation – that is, readying the house surface prior to painting.
This directly affects the quality and durability of the exterior paint finish.  A poor quality exterior painting job may need to be redone in as little as 3 years, while a quality job done correctly will probably provide 7 to 10 years of beauty. Since First Rate Siding and Roofing Experts guarantees our labor and materials in writing, it stands to reason that we take great care with your paint job to make sure it lasts the entire warrantee period, and often much longer!
Depending on the size and condition of your home, First Rate Siding and Roofing Experts will typically spend most of the first day preparing the surface for paint.  Preparing the surfaces to be painted carefully and thoroughly is essential for a long-lasting finish coat. 
Here are the steps to prepare and paint your James Hardie siding:
Pressure Wash Entire Exterior:  This step is a very important one.  If all dirt & grime is not removed prior to painting, the paint will not adhere correctly.  The siding must then be allowed to dry thoroughly before any caulking is begun.
Sand & Scrape:  Areas with loose paint will be scraped, and the edges of remaining paint still in contact with the surface often need a little sanding.
Priming:  James Hardie's Prime Plus siding means that you have a manufacturer-controlled primer on your siding.  This quality primer paint is engineered for the Atlanta area.
 Caulking:  First Rate Siding and Roofing Experts recommends the use of OSI Quad-Max Superior Polymer caulk.  It offers the best performance of any caulk on the market - it also has excellent flexibility, adhesion, durability, and includes a lifetime warranty.  Please note that we do not caulk seams until the siding has fully dried from pressure washing, as a dry surface is the key to the best caulk and paint performance.
We caulk all gaps that require sealant to protect your home.  Our recommendation is NOT to caulk gaps where pieces of siding meet on the body of your home. The James Hardie Best Practices Guide instructs us to install flashing to protect these openings during the siding installation.  Siding expands and contracts differently than your framing in warm and cool temperatures, and caulking in these areas will usually end up cracking before other areas of your home need maintenance. This will undermine the quality and look of your finish.
Masking:  We will mask all windows as necessary. Some painting companies will only lower the pressure on their paint sprayers and use a shield to try to prevent over-spray from getting on your windows and screens.  Others may just use masking paper along the edges of your windows. 
First Rate Siding and Roofing Experts does not trust this method, because even the slightest breeze will carry paint spray that will dry and cause a film on your windows.  Instead, we will mask windows fully with plastic.  We work hard to make certain that paint does not end up where is does not belong!
Application of Paint:  Once thorough preparation has been completed, we are ready to paint your home. Our application process consists of spraying a solid even coat of paint on the body of your home.  Often a second coat is applied at the same time or on a separate day to create the build that is needed related to your siding.  A quality coat by brush is applied on all trim and accent areas when this option is chosen.
We offer every customer the option of choosing from two grades of paint.  Please note that First Rate Siding and Roofing Experts never adds a surcharge on our materials.  We pass our contractor materials savings - often 30% or more savings over what retail customers pay- DIRECTLY to our customers.  We do not make any money from the materials we use on your home.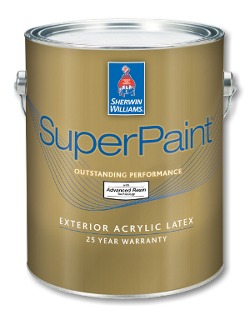 Sherwin Williams SUPERPAINT – The Best Classic Paint    
This paint grade is one we recommend to most of our customers.  With its advanced acrylic resin formula, you'll enjoy superior adhesion and color retention that lasts, and it provides excellent protection from mildew, fading, and peeling.  We offer a no-cost five-year labor and materials warranty on all James Hardie surfaces when choosing this option.

Sherwin Williams DURATION – The Ultimate High-Grade Paint
We recommend this paint grade to our customers who are planning on keeping their homes for 10 years or longer, or want the best and do not wish to repaint after five or more years. We have used this paint on exteriors that were completed over 10 years ago, and they still look great today!  Because of its PermaLast technology, this coating goes on 70% thicker than ordinary exterior house paint.  It is also up to 50% more durable than other premium exterior paints.  The initial cost of this paint upgrade can save you thousands of dollars in repainting costs!  This is a great product especially for wood trim.  The introduction of James Hardie's ColorPlus Option, with its 15-year finish warranty has become a popular complement to Duration on Trim in most cases where custom colors are not critical
Our exterior painting service areas include
Alpharetta, Cumming, Duluth, Dunwoody, Johns Creek, Milton, Roswell, Sandy Springs, and metro Atlanta in the following zip codes: 30004, 30009, 30011, 30022, 30024, 30028, 30030, 30033, 30039, 30040, 30041, 30042, 30043, 30044, 30047, 30052, 30062, 30064, 30068, 30071, 30075, 30076, 30080, 30082, 30092, 30093, 30096, 30097, 30102, 30106, 30114, 30115, 30126, 30127, 30144, 30152, 30157, 30188, 30189, 30301, 30305, 30306, 30307, 30317, 30318, 30319, 30327, 30328, 30338, 30341, 30342, 30345, 30350, 30501, 30506, 30507, 30518, 30519, 30542.
Please check out our website

Gallery page

to see photos of exteriors of homes we have painted as far back as 12 years ago.
Contact us via e-mail at any time firstratesiding@comcast.net